By Hayley Wootton.

2023 Wedding Dress Trends
As a 2023 Bride myself, I know how hard it can be to choose your perfect dress. Whether you are dreaming of a timeless classic or something quirky that your guests wouldn't expect!
As ever, recent celebrity weddings, Bridal Fashion Week, and even TV shows have all seemed to play an influence on current bridal fashion. With 2023 right around the corner and new wedding dress collections soon to hit the bridal shops, it's time to turn our attention to the wedding dress trends we expect to be seeing a lot more of, on 2023 Brides. Here is a roundup of some of the top picks from two of our WVSA supplier bridal shops, To Love And To Cherish Bridal and Stately Brides.
Lace High Necks
Maybe we have Paris Hilton to thank after she stunned in a lace, high neck, classic ballgown at her wedding to husband Carter Reum back in November 2021. This timeless, elegant style is set to be a big trend for Brides in 2023.

A Splash of Colour
Over recent years, colourful wedding dresses have been becoming increasingly popular. With Brides opting for blush tones rather than the traditional white or ivory. It's looking like 2023 is set to be no exception. Bridal fashion week saw a refresh to the colourful trend with pretty pale blues, and moody lavender, grey tones.

Image reference – WVSA Supplier To Love and to Cherish
80's Puff Sleeves
In all the pictures I have seen of my parents wedding three decades ago, my Mum looked stunning in her puff sleeve ballgown, but never did I think her wedding dress would actually be fashionable again by the time I was getting married myself. The puffier the better seems to be a big hit for wedding dress sleeves in 2023.

Image Reference WVSA Supplier – To Love and to Cherish
Capes
Are you not fancying wearing a veil, but still want the wow factor? Why not opt for a bridal cape.
This is one of the top trends expected to be seen in 2023. Especially after Emily in Paris actress, Lily Colins ticked off not only the lace high neck bridal trend with her wedding dress, but finished the look off with a show stopping intricate lace cape.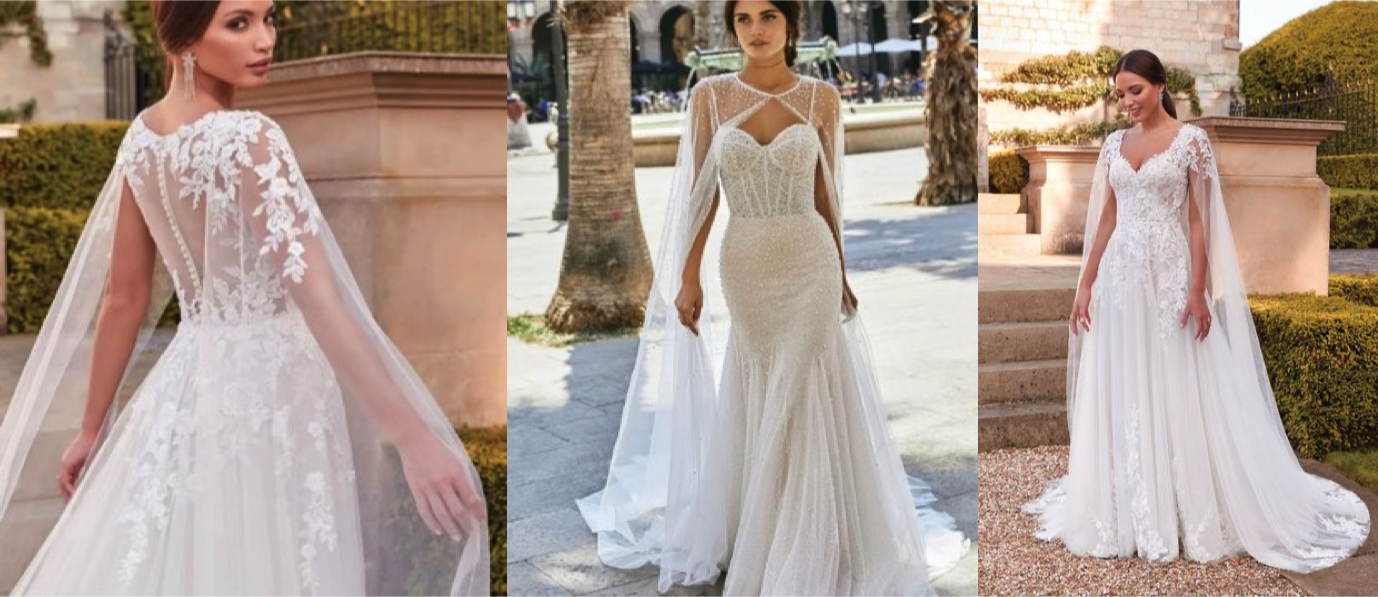 Image Reference – WVSA Supplier Stately Brides
Square Necklines
Over the past couple of years, elegant square necklines have slowly been becoming more popular in the bridal world. Especially after the hit tv series, Bridgerton, brought regal style back into fashion. 2023 is set for this style to be more popular than ever, with lots of bridal designers incorporating the neckline into their designs.

Image Reference WVSA Supplier – To Love and to Cherish
Lots of Love
Hayley xx