Meet The Team
Wedding & Event Planner
Natasha Sellers
General Manager – Derbyshire
After completing my Law degree I started looking down various career paths and came across a Wedding Planner position with Bespoke Weddings! Of course the most logical step after studying Law! I had just helped to plan my friends Wedding, which ignited my passion and interest in the Industry, so I applied for the job and the rest as they say is history!
What is your favourite Film?
Do you have any strange habits?
I have to set the volume on everything to an even number! I hate odd numbers!
What is your favourite Holiday?
Italy… mainly because of the food!
What is your guilty pleasure?
Louise Marsden
Sales and Marketing Manager & Bespoke Wedding Planner – North Derbyshire
My sister is possibly the most laid back person on the planet so when it came to her hen do and wedding this is where I stepped in to help! From there I did a course at the Wedding Planning College then joined Bespoke Weddings in 2015. I started out Wedding Planning for a couple of years and still do a little of this along side being the Sales & Marketing Manager.
Who is your Celebrity Crush?
Gino D'acampo, loving Italian food helps too!
What is your guilty pleasure?
What is your unpopular opinion?
I HATE everything about ketchup!
Your strangest pet?
A one eyed tortoise named Patch! Although my black lab can sometimes be quite strange too….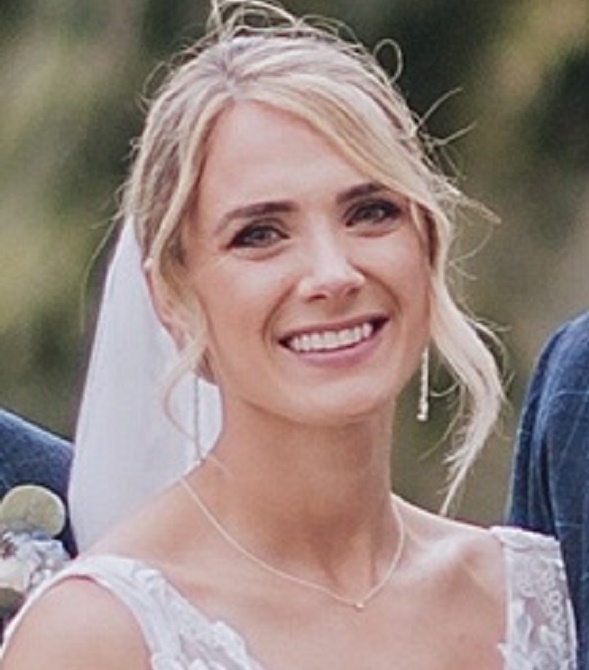 LAURA KOLKA
Regional Manager & Bespoke Wedding Planner– south yorkshire
Originally from Buckinghamshire, I fell in love with Sheffield and the North after completing my English and Theatre Degree at the University of Sheffield. My love for Weddings has been ongoing for years, my laptop has plenty of Word documents filled with images of venues, themes, and wedding dresses! However after working in corporate events in London for a couple of years, I took the plunge and moved to the city I love and to do my dream job as well!
What do you do in your spare time?
Power-lifting/bodybuilding and cooking!
What is your favourite movie?
Sex and the City (that wedding dress though!) or any of the Lord of the Rings films.
What wouldn't you be caught without?
Biros, my diary, and a lip-kit.
What makes you laugh the most?
Dog videos and my boyfriend!
HEATHER BRANDON
Regional Manager & Bespoke Wedding Planner – Warwickshire
I've worked in the events industry for over 4 years but have always been most excited about being involved in weddings. I can't count how many Pinterest boards I have with wedding inspiration!
Having worked as an Events Manager in hotels in London; I took the big move to go back to my roots in the Midlands and follow my dream to become a Wedding Planner and am so excited to join Bespoke Weddings. I'm passionate about building relationships and connecting with people and love being part of making the dream come alive; from the very first meeting to the big day itself!
What do you do in your spare time?
I absolutely love anything crafty. I have a degree in Fine Art and still love to take time to paint or start new Pinterest projects.
What is your favourite film?
The Greatest Showman – sometimes you can't beat a cheesy feel good musical!
What is the best holiday you've been on?
It's a toss up between travelling round Italy; eating lots of food and drinking wine. Or going to a festival in Budapest which was incredible!
WHAT IS YOUR FAVOURITE BOOK?
The Book Thief, The Time Travellers Wife, I Capture the Castle and The Kite Runner are definitely in my top 4. Love reading so there's too many to choose from!
Maria Napper
Bespoke Wedding Planner – Lincolnshire & Rutland
I have a passion for helping couples create their bespoke wedding day. As a self employed florist I found myself branching out into the wedding circle meeting some fantastic clients and suppliers. This therefore inspired me to extend my role further and apply to become a wedding planner for Bespoke Weddings!
Where is the most exciting place you have visited?
What are your favourite flowers?
How do you enjoy leisure time?
Family holidays and days out, spa days and retail therapy!
Where in the world would you like to visit?
Keely tredgold
Bespoke Wedding Planner – Nottinghamshire & Lincolnshire
Starting off in the Design industry, thoughts of Weddings were never far away. I LOVE WEDDINGS! So alongside my full time job I was always finding ways to get involved in Weddings. After 15 years in the Design industry and doing Wedding stationery for 8 years on the side, a move to Nottinghamshire prompted me to take up Wedding stationery full time but I have always wanted to be a Wedding Planner, it's my dream job. I'm so excited to work with couples and help create their perfect day.
What is your favourite colour combination for weddings?
I love Navy and Rose Gold with a little Pink, gorgeous! Oh and Sage Green and Dusky Pink… oooo and deep Pinks and Purples with a hint of Peacock Green… and Cornflower Blue with elements of Sage and Dusky Pink… and… well I like everything!
What is your secret love?
Glitter! Sparkles! Bling! Actually it's not so secret, I was known as the "Glitter Queen" at my last job as 90% of my designs contained glitter or foils.
What is your real secret love?
A spoon… a jar of Biscoff spread… the couch… my duvet and watching the Twilight films back to back. Team Edward!
What is your favourite film?
1978 The Slipper and the Rose, the perfect Cinderella story!
Hannah ryder
Bespoke Wedding Planner – North Derbyshire & Nottinghamshire
Having left wedding planning for finance almost 5 years ago, I finally decided I just had to go back to working in weddings, I missed it too much! Planning and arranging are just things I love to do, whether that's for a wedding, party, or other events; I just love it!
When I was offered the chance to work for Bespoke, I had to take it and finally do my dream job. I love listening to proposal stories and couples dream weddings, so where better to hear them than as a wedding planner!
What is your dream holiday destination?
Name a film that always makes you cry?
Marley and Me, even though I know the ending, it still gets me every time!
What is your favourite food?
Emily Hankey
Bespoke Wedding Planner – Staffordshire
After studying photography at college, I went on to photographing weddings. A world that that was completely new to me at the time and one that sparked my hunger to be more creative. I have gone on to designing and making wedding invitations, as well as creating digital artwork.
 With 4 years' experience of working in the hospitality industry I knew working as a wedding planner was the path for me. I am now able to take everything I have learnt and love onto this magical journey.
What is your favourite food?
Burgers!! I love finding quirky new places to eat with my fiancé so I can try out new burgers. My parents have told me I'm a little obsessed.
What's your favourite film?
Once Upon a Time in Hollywood by Quentin Tarantino.
If you could visit anywhere in the world where would it be?
Vietnam! It just looks unreal.
What is one strange fact about you?
I have always been a secret metal head with 11 years' experience in ballroom dancing.
Natasha Davies
Bespoke Wedding Planner- Shropshire
I've worked within the motor trade for 11years, but I have always loved organising events and helping people with ideas.
I am currently organising my own wedding at the moment and I am loving the process. I am over the moon to have the chance to work for Bespoke Weddings, and to have the opportunity to help couples with their magical day.
Do you have any pets?
Yes I have a Cockerpoo called Millie.
What is your favourite cocktail?
Where is your favourite holiday destination?
Florida – I love going to the Disney & Universal Parks, action packed and my kids love it!
What is your favourite food?
Kayleigh Cartledge
Bespoke Wedding Planner – Warwickshire
Weddings to me are the absolute highlight of a partnership. I love everything from the dress to the venue to the food and drink. My wedding day was planned by myself and I loved every second of it. Being able to help couples with their dream weddings is going to be an absolute pleasure!
What are your hobbies?
I love netball and absolutely love a good mountain climb.
Do you have any strange pets?
I have two yellow belly turtles and a jug puppy (jack russell x pug).
What is you not so secret obsession?
What is your favourite time of year?
Has to be Christmas. Love seeing my two childrens faces when they see their presents. 
Alice Warren
Bespoke Wedding Planner – Derbyshire
Over the years I have completed different courses and tried my hand at quite a few jobs, from working in civil engineering to fitting bulbs & mixing paint at Halfords! I was in search of a job where I could make others happy and also find joy and purpose for myself. In recent years I have assisted in planning events and offering a hand organising aspects of friends and relatives weddings, and found it suited me perfectly. I am so grateful to join Bespoke Weddings and be given an opportunity at a career where my creativeness, enthusiasm and passion can shine!
What do you do in your spare time?
I really enjoy fitness and walking– I walked the Yorkshire three peaks a few years ago in aid of Macmillan.
What is your favourite food?
Pizza (or basically anything covered in cheese)!
How do you relax?
I have always enjoyed reading and currently working my way through a bucket list of the best 100 books to read.
What are your hobbies?
I love being out in my garden and love all kinds of flowers – I recently completed a floristry diploma in my spare time.
WHAT ARE YOU WAITING FOR...
Let's Plan Your Big Day!