BESPOKE COMPETITION AT MOSBOROUGH HALL.
ALEX STEWART & JODIE TAYLOR
29th March 2019
CONGRATULATIONS…
Alex & Jodie won the wedding of their dreams through the Bespoke Competition at Mosborough Hall, their prize included Venue Hire, and a Food & Drinks Package!
After being selected to win the Venue Hire at Mosborough as part of Round One of the Bespoke Competition Alex & Jodie were required to write a story of their background for the chance to win further prizes!
Here is a snippet of their story which helped them Win Round Two, their Food & Drink Package;
We received the unfortunate news after 5 years
that the chance of us conceiving a child naturally was basically zero
This was when we decided to embark on the journey of IVF.
It was a long process and Alex supported me all the way.
At the end of the journey we found out that on our first attempt we had been blessed
with the conception of our miracle Hettie.
WVSA ACCREDITED SUPPLIERS

.
Special thanks to the following WVSA Accredited Suppliers for providing prizes;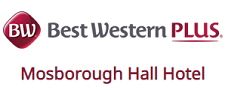 Originally a 12th century manor house, the Best Western Plus Mosborough Hall Hotel is a truly historic Sheffield hotel, offering that perfect blend of charm, tradition and modern sophistication.
Set in the picturesque village of Mosborough, just fifteen minutes from Chesterfield and the splendours of the Peak District, Best Western Plus Mosborough Hall is one of the most outstanding hotels in Sheffield.
Perfect for those seeking a short break or couples looking for a unique, secluded wedding venue, Sheffield's shops, museums and nightclubs are within easy reach, and the hotel has plenty of complimentary parking on site.
With a history dating back to the 12th century, the Best Western Plus Mosborough Hall Hotel offers quality hotel rooms in Sheffield – most contemporary in style, and one complete with a four poster bed.
Together with the superbly equipped meeting and function rooms, they generate an atmosphere of refined elegance and comfort that's perfect whether you're chilling from a meeting, recovering from a trek over the moors or around the shops, or enjoying your first night together as a married couple.
REGISTER FOR OUR LATEST
BESPOKE COMPETITIONS TODA

Y!
For your chance to WIN the wedding of your dreams like Alex & Jodie did, click on the link above to enter our latest Bespoke Win a Wedding Competitions.
GOOD LUCK!.