BESPOKE COMPETITION WINNERS AT STOKE ROCHFORD HALL
SHELLY & DAN 
14th May 2020
CONGRATULATIONS…
Shelly & Dan were selected as the Bespoke Competition Winners at Stoke Rochford Hall, their prize included Venue Hire, and a Food & Drinks Package! After being selected to win the Venue Hire at Stoke Rochford Hall as part of Round One of the Bespoke Competition Shelly & Dan were required to write a story of their background for the chance to win further prizes!
Here is a snippet of their story which helped them win Round Two, their Food & Drink Package;
'We originally met when Shelly was 14 and me 15 at Dairy Farm Stables, and we're together as teenage boyfriend and girlfriend for just over 2 years. After splitting up we lost touch for around 17 years, until Shelly sent me a random late night Facebook friend request, the rest, as they say, is history'
Upon finding out they had won Round Two of the Competition, Shelly & Dan said;
"We were both surprised and delighted to have won the first round, and completely Shocked, too win round two, without bespoke weddings and being lucky enough to win we probably would not have got round to getting married. Really looking forward to planning our big day"
WVSA ACCREDITED SUPPLIERS

.
Special thanks to the following WVSA Accredited Suppliers for providing prizes;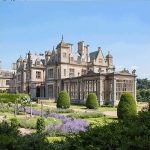 Bespoke Weddings would also like to thank Shutterbox Photography for taking such fantastic cheque presentation photos!
ABOUT STOKE ROCHFORD HALL
STOKE ROCHFORD HALL HOTEL AND GOLF, NEAR GRANTHAM IN LINCOLNSHIRE IS A UNIQUE HOTEL, CONFERENCE AND BANQUETING CENTRE WITH A FIRST CLASS REPUTATION. HOUSED IN A SUPERB VICTORIAN COUNTRY MANSION AND SET WITHIN FORMAL LANDSCAPED GARDENS. IDEALLY SET AMIDST EXTENSIVE COUNTRYSIDE IN THE EAST MIDLANDS OFFERING AN EXCEPTIONAL STANDARD OF HOSPITALITY, CUISINE AND LOCATION.
For conferences and meetings, the idyllic and tranquil environment offers a perfect retreat away from the demands of the office. Yet its easily accessible, central location and excellent transport links mean that Stoke Rochford Hall really does have it all. Grand, elegant function rooms and comfortably spacious guest accommodation makes our hotel the ideal venue for your wedding day, special celebration or a leisurely holiday break away from it all. Whatever your reason for visiting, we look forward to welcoming you.
REGISTER FOR OUR LATEST
BESPOKE COMPETITIONS TODA

Y!
For your chance to WIN the wedding of your dreams like Shelly & Dan did, click on the link above to enter our latest Bespoke Win a Wedding Competitions.
GOOD LUCK!.