COMPETITION WINNERS AT MODDERSHALL OAKS
STUART & LAUREN
10th August 2020
CONGRATULATIONS…
Stuart & Lauren could not believe it when they were selected as Round One Competition Winners in the Bespoke Weddings Competition at Moddershall Oaks, which included Free Venue Hire!
After meeting with our Bespoke Wedding Planner and booking their Wedding date, Stuart and Lauren were entered into Round Two of the Competition at Moddershall Oaks, a 1 in 10 chance of winning their Food & Drink Package! To be in with a chance the couple were required to write a story about themselves, below is a snippet….
'We discovered around 5 years ago that Stu had a spinal cord tumour. After the operation, he was left paralysed on his left side and told he would never walk again. Stu was sent to Headley Court a Military Rehabilitation unit in Surrey for 12 months, which was difficult for us. He was then discharged from the Army and left to get on with his condition. After years of medical trials and rehab he learnt to walk again last September!'
Stuart and Lauren were later selected as our Round One & Two Winners of the Bespoke Competition at Moddershall Oaks! Upon finding out they said;
We're so excited to have won round two and can't explain how much this means to us both. We want to say a huge thank you to Charlotte and bespoke weddings for making this possible. Roll on August 2020!
Thank you to Gemma Yeomans Photography for taking some fab photos at the cheque presentation! 
WVSA ACCREDITED SUPPLIERS

.
Special thanks to the following WVSA Accredited Suppliers for providing prizes;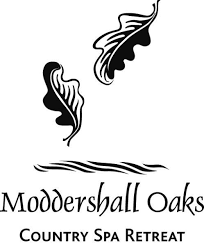 Over the years, Moddershall Oaks has been transformed from a beautiful country property to a magnificent country spa retreat and wedding venue in the heart of Staffordshire. As a family business, we pride ourselves on our service standards and welcoming, adult-friendly atmosphere.
Our ten luxury suites are perfect for weekend spa breaks in Staffordshire, a dash away from the city or an escape from home. We have spa day packages that offer relaxation and pampering to suit a range of budgets, alongside a full selection of complementary therapies and beauty spa treatments. Our gourmet restaurant offers a stunning view of the property and serves outstanding food throughout the evening and day.
'The Venue' features flexible spaces for events, with an outdoor courtyard set to outstanding specifications that make for an idyllic wedding venue. Not only that, but our picturesque lakeside setting makes for beautiful outdoor wedding ceremonies; woodland wedding venues rarely enjoy the versatility that Moddershall Oaks provides. For those interested in winter wedding venues, Moddershall Oaks offers plenty of appeals all year round, transitioning beautifully from season to season.
We also offer our facilities to business events and private hire for entertainment and other celebrations, ensuring that your event is remembered with a unique twist from our spa. Moddershall Oaks is the ideal place to relax, unwind and indulge in complete comfort, where nothing is too much trouble.
REGISTER FOR OUR LATEST
BESPOKE COMPETITIONS TODA

Y!
For your chance to WIN the wedding of your dreams like Stuart & Lauren did, click on the link above to enter our latest Bespoke Win a Wedding Competitions.
GOOD LUCK!.