DIY Wedding Ideas
There are lots of simple, quirky little DIY Wedding ideas that you can do on a tight budget, that will look just as elegant, also adding a touch of homemade magic to a wedding, makes it look just that little more special and personal.
By asking friends and relatives to help out, this ensures they are involved in the day and I'm sure they would be honoured to be able to help in some way, no matter how small.
Table Decorations
A simple yet effective DIY centrepiece – save your empty jam and coffee jars, wrap some ribbon, hessian or another chosen material around. Simply fill with a little posy from your own garden or buy some artificial flowers (there are some wonderful fake flowers around these days!) You have just made a beautiful centre piece which can also be used for your church/civil ceremony and then moved onto your tables ready for your wedding breakfast!
DIY table numbers/names and place name cards! If your calligraphy could do with some work, then you can buy stamp sets or even use stencils to create your wording. I did this for my brother's wedding recently, it was great to help out on their big day!
You are not restricted by anything when it comes to decorating your own wedding tables, think big! If you love literature, you could use books as your theme, each table could be named after your favourite authors and have a few of their novels on each table (these could also be gifted as favours). You could have animal themed tables or even just stick a pineapple as a centre piece! – it's your day and you should have it exactly how you want it, whether that be anything from Classical to Disney princesses, Alice in Wonderland or just your own mixture of quirkiness.
Wedding Favours
There are lots of options you could choose as favours for your guests, but there is something special about a homemade present from you both.
A lovely idea is to brew your own batch of sloe gin or raspberry vodka – this will need to be thought of quite a few months in advance but is a lovely little touch that will make a big impact.
You could create something chocolatey for your guests – it's so easy to whip up a batch of truffles – no baking required, simply pop a few in a little box and you have something to be very proud of.
If you have a sweet tooth, then you can order some cellophane bags online and fill with your favourite sweets, tie a piece of ribbon around the top and you have a cute personalised favour.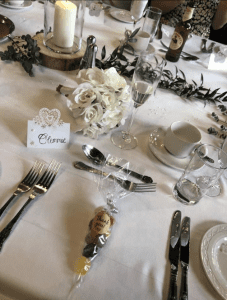 Another DIY idea is to print off a photo of you and the guest for them to keep (you also wouldn't necessarily need name cards then), this will be a talking point within the table. You could even write a short piece on the back of the photo about what they mean to you, or the story behind the picture etc.
Home-made Instagram worthy photo opportunities
If you or a family member are quite handy then you will be able to make your own photo frame which can act as your very own personalised photo booth – you would just need some timber, create a head height frame and decorate how ever you wish. You can add a little hanging sign with your names and the date to commemorate, buy foliage or flowers to decorate and paint whatever colour you like. Bring all the props you have, and you will be sure to get some great photos from it. The good thing about it is that it would be mobile so you can have whatever backdrop you fancy.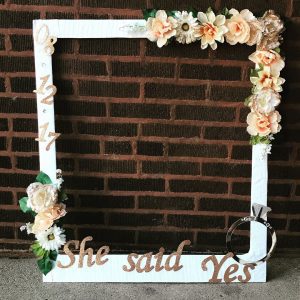 Alternatively, you can create your own backdrop. Get a white sheet (or any colour that matches your theme) and simply hang it up over an unused wall at the venue, or outside if the weather is fine – and you can string up twinkly fairy lights that hang down to the floor, or pin flowers all around the edge. The possibilities are endless once you start to think about it, and you can create something so magical that will have all your guests talking about them for years.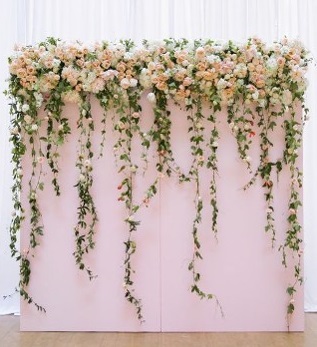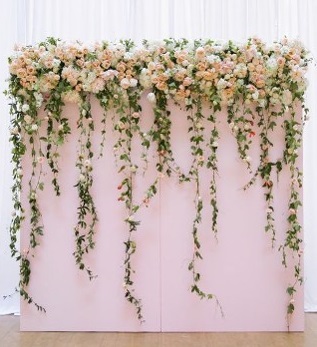 Extra Finishing Touches:
If you just wanted to add some little elements of homemade to your wedding, there are small things that will make a big impression:
Instead of using shop bought confetti, you could dry out your own flowers for people to adorn you with after your ceremony or gather together some leaves and hole-punch them, you then have beautifully natural confetti – and it's all biodegradable.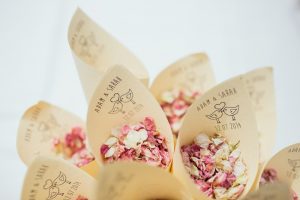 Set aside a table at the venue, and fill it up with bowls of different fruits, various juices and edible glitter etc. making yourself a DIY 'Pimp your Gin/Prosecco Bar' – usually the venue will provide the tipple so just speak to them beforehand.
Fairy lights are such an easy way to really make your day sparkle and shine, put them in mason jars, around trees, even wrap them around a crate and pin pictures of the two of you on there. You can buy specific lights to put in gin/wine bottles that have a stopper that fits perfectly in the top.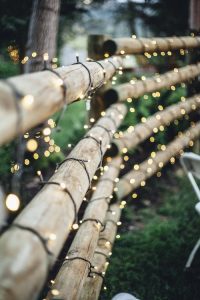 Any bit of twinkle you add just creates an incandescent glow and once the evening draws in will make the whole evening shine.
You can create your own personalised signage for the wedding day, and place in different areas of the venue – I think the more rustic adds to the charm.
Even make your own doughnut wall! I did this for a wedding recently to match in with the sweetie theme and once filled with doughnuts and cookies it was very effective. It was placed on the same table as all the sweets and worked well alongside the evening buffet. You can use whatever colours you wanted and personalise it however you like to match your theme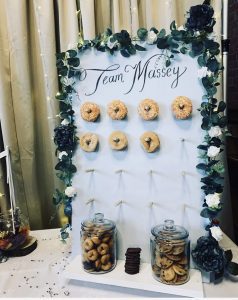 Remember, the only limit is your imagination…