HOTEL VAN DYK COMPETITION WINNERS.
ALUN WHITAKER & SARAH NICOLAS  
5th August 2019
CONGRATULATIONS…
Alun & Sarah won their dream wedding after entering the Hotel Van Dyk Competition organised by Bespoke Weddings. The prize included Venue Hire and a Food & Drink Package!
After being selected to win the Venue Hire at Hotel Van Dyk as part of Round One of the Bespoke Competition Alun & Sarah were required to write about how they met or their proposal for the chance to win further prizes!
Alun & Sarah wrote a fantastic poem and the judges loved their fantastic effort so they were picked to win Food & Drink Package too!
We first met each other when out late,
And knew at once we were sole mates!
Our eyes met each other's gaze,
Our minds were in a haze!
A whirlwind romance unfolded,
Daughters, a house and dogs were moulded!
Into a wonderful loving family entity,
Now and forever this is our destiny!
Down on one knee a ring came out,
Glittering with diamonds all about!
The fateful words were said,
And with a reply we would be wed!
Planning was hectic; venues, DJs, a dress,
Decisions, choices, so much stress!
Bespoke appeared like a shining light,
To help us design our special night!
WVSA ACCREDITED SUPPLIERS.
Special thanks to the following WVSA Accredited Suppliers for providing prizes;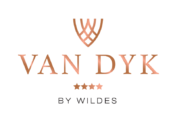 Van Dyk is one of Derbyshire's best-licensed wedding venues, it is the first choice for couples aspiring to have the ultimate wedding.
Set in beautiful surroundings with award-winning food and exceptional facilities, Van Dyk boasts a range of wedding packages which can be tailored to suit each couple's bespoke wedding day.
Van Dyk offers a choice of private rooms for wedding breakfasts, fully-licensed civil ceremonies and evening wedding receptions, a fantastic honeymoon suite and has plenty of accommodation for your guests.
Choose from Van Dyk's Suite for larger weddings or rooms within the old chapel for intimate smaller weddings.
Whether it's a contemporary wedding or a traditional wedding, every ceremony should be different so the dedicated wedding planners are on hand to arrange any bespoke extras required. No two weddings are held on the same day at Van Dyk, ensuring every couple feels extra special.
REGISTER FOR OUR LATEST
BESPOKE COMPETITIONS TODA

Y!
For your chance to WIN the wedding of your dreams like Alun & Sarah did, click on the link above to enter our latest Bespoke Win a Wedding Competitions.
GOOD LUCK!.