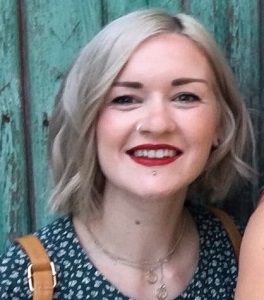 Quirky Wedding Trends 
Add a bit of quirky you into your wedding – 5 quirky trends to help do just that
Weddings are a tradition; a beautiful day to celebrate the bonding of two people who promise to love each other through thick and thin and we want to keep it that way forever!
However, why should you HAVE to have a top table with people you may not like on it? Who says your wedding dress has to be white? Let's face it, a lot has changed over the years and to Auntie Sue who says I can only have women as my bridesmaids, I say NO!
Now, more than ever, people are choosing which wedding traditions they keep and which ones they say "no" to. This year's wedding trend is more about embracing your individuality and incorporating your personalities into your wedding day and having the most fun with all of your favourite humans who are there to celebrate with you! For me, I can't think of a more exciting time to be getting married!
Here are some of the quirky trends we are loving that are making for some extra spectacular weddings and I hope to inspire some of you to ensure your wedding day is an expression of you and your favourite things
1. Farm Yard to Weddings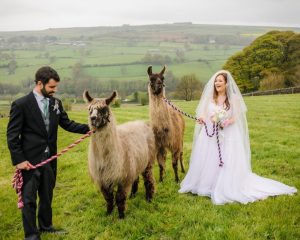 For all those animal lovers out there, yes, these are two alpacas at a wedding, and I am in love with this photo! We've seen couples bringing their beloved pets to their wedding day and this year has been the rise of the alpacas! Imagine having these furry new friends for the day for your pictures? They look amazing and such a great way to entertain your guests of all ages by bringing the farm to the wedding…Certainly a stand out addition that no-one will forget!
2. Headpieces – Not Just for Festivals
Image reference: 1) Star Halo Crown 2) Lovesick glitter birdcage veil 3) Secret garden veil from https://crownandglory.co.uk/ 4) Floral headpiece from http://www.funkyflorists.co.uk/ 5) Silver jewel bride hat from https://www.gypsy-blood.co.uk/
Remember the days where your wedding day headpiece option was a veil, that's it? Or when flower crowns were only worn at festivals? Well not any more! There's so much to choose from and this year's trends are getting quirkier; from floral crowns to embroidered veils or you could go all out with the jewelled bridal hat!! From the stunningly subtle to exceptionally extravagant, we love them all!
Anyone else think they may need to have 10 outfit changes throughout their wedding day?
3. Colour Everywhere
Romantic whimsical style and colours like blush and mauve are still in, and after all, it's a wedding so it's safe to say that isn't just a trend but with the rules out the window and with colourful personalities, comes colourful weddings! YAY!
Flowers are a great way of adding a mixture of colours into a wedding that doesn't look overpowering, or team them up with some colourful ribbon like the installation by WVSA supplier Ginger Moon Wedding and Event Hire to go bold and bright!
Image reference: WVSA Supplier https://www.gingermoonhire.co.uk/
For the bride who's looking to add a bit of colour, I do love a little coloured shoe or, new trend alert, the headpiece is back again, with the gorgeous veil's by Crown and Glory, they do all sorts of colours and I think you'll admit, they definitely add that wow – factor to the bridal outfit.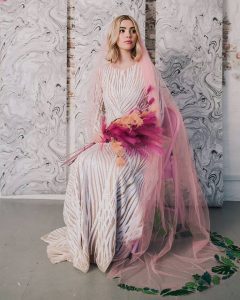 Or not a fan of wearing white at all? That's fine! Blush has been the new wedding dress colour of 2018/19 and I am a huge fan and how about next year daring to go a little step further with a colour of your choosing? With the serenity blues emerging into the wedding scene we have found this beauty of a wedding dress, or for those that can't decide, why not have the best of both worlds? I am loving the dip dyed dresses from Lucy Can't Dance making every bride look even more stunning!
Image reference: 1)
www.crownandglory.co.uk 2) WVSA Supplier https://www.allisonlouisebridal.co.uk/ 3) https://teutamatoshiduriqi.com/ 4) https://lucycantdance.com/
4. Backdrops that Wow
The backdrop or installation, whatever you want to call it, this is really where you can show off your own style and have something quirky and perfect for you, decorating it however you'd like. What's even better is, you can use it throughout your day! Yes please to saving some pennies!
My personal favourite is to turn it into a backdrop for a photobooth. All you need is a polaroid camera or for the couple's lucky enough to have won Round 1 of the Bespoke Weddings competition could ask their guests to upload their photobooth pictures to the gallery page on your WVSA website – bonus! Here are some of my favourites, all from our amazing WVSA suppliers and suit so many different styles; from vintage, to rustic to the very on trend neon signage and we love them all!
Image reference: 1-3) WVSA Supplier https://www.dylandco.co.uk/ 4) WVSA Supplier http://www.takeaseatinstyle.co.uk/
5. A Wedding 'Inclusive' Party
Move over flower girls, here come the flower grandparents!
There are certain traditional roles and responsibilities in the lead up to and on a wedding day. Over the year's trends are changing and breaking the traditional rules to become more inclusive – about time!
I suggest you include the people you want and care for in your bridal party, no matter what gender or age they are, 'Best people' for the bride and groom sounds perfect to me and flower grandparents is just the cutest thing! Important roles, like looking after those precious wedding rings, please don't give that job to someone who loses their keys every 5 minutes just because traditionally they are 'meant to', give it to someone you trust, why not ask Dad to get involved and bring the rings? Get your favourite people with you to help and join in on the day and it's bound to be an incredible one to never forget! Love is what the day is all about after all!
Whatever you chose to do on your wedding day, please remember to have fun planning, to think about and celebrate wonderful you!