Say YES to the Dress!
For the bride, her dress is one of the most important parts of the wedding. To make her feel like a princess for the day and that doesn't just mean the style of the Wedding dress.
Traditionally the bride wore a white dress on her wedding day to show purity and virginity before getting married to the groom. Now a days that has gone out of the window and the most popular colour for the dress is ivory, but as we mentioned in last months blog you can have any colour you like!  
There is no right way to pick your perfect Wedding dress but I can give you a few pointers to help make it a little bit easier! My main tip is remember to have fun, it should never be a stressful time picking the dress.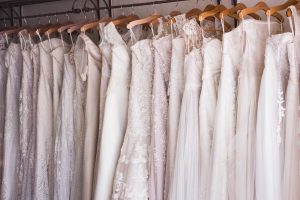 TIMING
There is no particular timescale when you should choose your dress.
Some brides wait until they have found a venue of their dreams before picking the dress as this is something they want to match the theme of the venue or style to go with the day.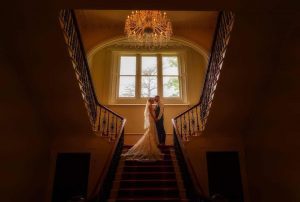 Then there are the brides that go dress shopping before even visiting the venues of choice, sometimes because they are really excited to pick the dress and just cannot wait.
Depending on the date of your wedding you need to take into account the making and delivery time of the all-important dress, so make sure you tell the stylist when you are getting married so they know which dresses they can order in time. In some cases, it can take up to 6-8 months to order in the dress in your size then don't forget you need time for alterations!
Another option is buying one of the shop samples (off the rack) this doesn't mean the dress is second hand they are still new and most likely only been tried on a handful of times. This can be really helpful if you have booked a late availability Wedding, so you don't have to wait months for delivery!
THE APPOINTMENT:
Research the bridal shop! Has it got good reviews from other brides? You want to make your experience as stress-free and enjoyable as possible, a good bridal shop will ensure this happens!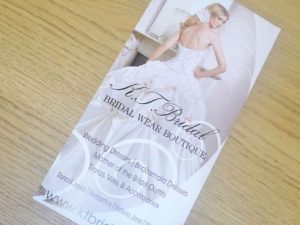 Once you find 'the one' you will know! Some people get the 'feeling' that could be a crying moment, a ball in the throat, not wanting to take the dress off, mum crying – but don't let mum's tears sway your decision, you have to love it too! Many brides have found the dress in the first shop, sometimes the first dress they try! But always try on a few more too, just in case!
WHO TO TAKE WITH YOU?
Try not to get over excited and take a massive group of friends and family when trying on dresses for the first time. People have their own opinions and too many at a time can be over whelming and stressful.
Most of the bride usually take their mum, maid of honour and maybe a sister or other bridesmaid, 2-4 people is a perfect amount. Remember you will be returning to the shop for fittings so you can take different family members/bridesmaids to those appointments!
Alternatively, you may be modern and bring your partner! Most of the time the bride doesn't wasn't to let them see the dress until the day but it is the 21st century and you can do what you want! If you feel your partner knows you best they could be the best person to help you decide!
STYLE OF WEDDING DRESSES:
There are so many styles, shapes, colours lengths of dresses it would be impossible to name all the different types. Picking the style is completely down to your taste and what you feel comfortable in. Here are a few options of ideas;
Sweetheart neck line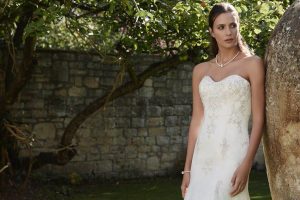 V-neck or a plunge neck line
Straps they can come in all different types and styles of straps
Sleeves, again these can come in so many styles lace, see through, covered, full length, 3 quarter length sleeves.
Princess dress or ball grown styles dress – if you want to be a real princess on your day this style could suit you, however if you are opting for a beach wedding I wouldn't recommend this type of dress and it will be far too heavy and hot!
Mermaid – this style dress is perfect for the bride that likes to show off their figure, maybe not right for anyone that doesn't like their hips but you never know until you try one on you will either love it or hate it!
A-line Dress – this is for someone that likes the idea of a ball gown but not too big its fitted to your beautiful waist and pulls you in at all the right places. You can add a hoop under the dress if you want it a little bit bigger (this also makes it easier to walk in!)
Short dress – Perfect if you like to dance without tripping over the gown or you are on the short side yourself and don't want to look like you are downing in a dress.
The best thing to do if you are unsure is to try on one of each style then you will know which you prefer!
You could even opt for 2 dresses! Yes 2! I have known brides to have a ceremony dress then change into another dress for the evening reception to dance the night away.
You only have one day so you might as well do it your way!!
SAY YES TO THE DRESS!
Once you have found the one, don't keep looking! Now enjoy the rest of the planning and once you put your dress on, on the morning of your wedding it will make you feel perfect!