By Aimee-Louise Sumner.
Wedding Suppliers!
By now I am assuming you have all been to a Wedding Fayre or two……(or maybe even more!), so you will know exactly how daunting this is and how many Wedding Suppliers there are to choose from!
If you are unsure of what you would like for your wedding, whether it be entertainment, decorations, colour scheme etc, walking into a Wedding Fayre can be super scary. There are always lots of suppliers handing you leaflets, wanting to talk to you, trying to give you advice….this can be very over whelming indeed.
So I just wanted to give you a little bit of advice on when it comes to thinking about your suppliers to hopefully make the whole experience a little more 'less scary!'.
Now if you have been lucky enough to book your big day through Bespoke Weddings, you will have a fabulous Wedding Planner on hand to help you with your supplier selection so you will be in very capable hands 😊 Your Wedding Planner can sit down with you and discuss all options in regards to our fabulous WVSA Accredited Suppliers.
All of our suppliers are at the highest standards and will give you the best possible service….plus you get discounts and your Wedding Planner does all the contacting too…..winner, winner!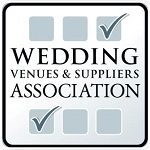 You can fully trust your Wedding Planners recommendations, knowing the suppliers have been accredited by the WVSA. Many of our suppliers have been working with us for many years now too so do majority of our weddings.
If you haven't booked your Wedding through the competition though, don't panic! I am here to give you some tips to think about so you are not on your own.
So, as you have probably been made aware of by now, there are A LOT of suppliers out there….some cheap, some expensive, some that offer this, some that offer that but the biggest piece of advice I can give you is DO YOUR RESEARCH!
Its very easy to get swept away by an absolutely fabulous deal that a supplier may throw at you, (and before I go any further, I am not saying that my next sentence is the case with all suppliers, as sometimes its really not)…but in some cases, they are offering this deal for a reason!
Now, like I said, this isn't always the case at all, but my advice is, always check them out first before making any decisions or booking on a whim. Some suppliers are genuinely offering a really good discount, holding a special promotion etc but I have seen it numerous times that couples have booked a really good deal they have seen online and then never heard back from the supplier again after they have taken their deposit!
When looking at any suppliers, whether they are offering a deal or full price, make sure you check them out. Have a look on their website, their social media, ask friends/family etc.
Reviews are a massive thing and people are extremely honest so if you want the truth, look at the reviews!
All good suppliers are happy to take the time to meet with you and discuss their services in more detail with you to ensure you are getting the best package for your needs. If you have found a supplier online, always ask for a meet up, this way you can ensure they are genuine, offering what you need and will be a great fit for you.
So when you first book your wedding I would imagine you will be thinking where on earth do I start with all of the planning! Again, don't worry, you are not on your own!
Other nugget of advice for you is to start with the following suppliers:
Photographer – This is an absolute number 1! The top photographers do tend to get booked up very quickly and far in advance. Get in there quick to avoid any disappointment!
WVSA Suppliers Field Photographic & Merv Spencer Photography
DJ/Band – You should definitely start thinking about your entertainment as this is something that guests remember…..food and music are always what your guests will talk about afterwards…..if the grub was good and if the tunes were bangers! (no one wants to be hungry and everyone loves a good boogie!)
WVSA Supplier Jackstar Weddings
Cake – Now who doesn't think cake when they think weddings?! (oooh, just me? Oooops!) Well if you are like me and think cake is the best thing ever, start looking into the designs you want. There are some incredible cake makers out there that are able to tailor designs to you. Designs do take time so I always suggest to get your booking in with your cake maker as soon as you can. They can then make sure they book enough time in to accomplish your request.
WVSA Supplier Treehouse Cakes
Venue dressing – now you have the perfect venue, you need to think about your decorations. A lot of couples are choosing to do this themselves, which is absolutely fine, but if you are wanting someone to come in and do this for you, you need to get this booked! As with photographers, venue dressers can get booked up very quickly too.
WVSA Supplier Create The Scene
Hair & Make-up – As your Hair and Make-up Artists can only been in one place at a given time, once they are booked up, they are booked up! You may wish to ensure this is booked as soon as you can to ensure you get the artist you want and avoid any disappointment.
WVSA Supplier Becky Ghent Make Up
Florist – Flowers are also a massive thing in the wedding world! Florists can also be extremely busy, and could potentially do a few weddings per day! I would definitely recommend starting to look at what flowers you like. Its also important to speak with a Florist in advance as there are certain flowers that are only available at certain times so you want to make sure your bouquet of dreams is doable before setting your heart on it!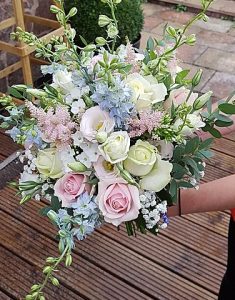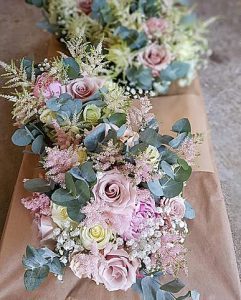 WVSA Supplier Bradgate Flowers
I usually find anything after these five, can be done as and when you need to and although they are important, you can take a little more time with these. Other aspect to think about are:
Any other entertainment – such as magicians, casino, fireworks etc. Dress/suits, Rings, Favours, Honeymoon.
WVSA Supplier Paul Grundle Magician
All venues have their own list of recommended suppliers too so if you haven't booked through Bespoke Weddings and have a Wedding Planner to help you find the perfect suppliers, you may wish to contact your venue and they will be able to let you know who they recommend using. This again will give you a piece of mind, knowing the venue trust these suppliers too.
So as scary as the whole process may feel, please don't worry, you are honestly not alone!
If you have a Wedding Planner, contact them and ask them for their guidance with this and if you don't, contact us or ask your venue for their recommended supplier list.
Help is always on hand for those who ask 😊
Aimee-Louise x