By Laura Kolka.

The Wedding Run Up – Final Details Time
This is it. We're ALMOST there. It's been a long time coming, especially for some of our covid couples. It is FINALLY a few months before your wedding date, this is when everything starts falling into place and final decisions are being made. But what exactly do you need to do?
Final Supplier Meetings
These will be the main bulk on your to – do list, time to get them booked in. Some suppliers will meet you at this point or you'll need to book your meeting in for closer to the time.
Whether it's a quick call or a detailed meeting, you need to touch base with all your suppliers to ensure you are both on the same page. You need to check if there is anything they need on the wedding day, such as plugs, a separate area, a meal (and if they have any dietary requirements). Confirm the timings for them to arrive and/or leave, and do your final quote!
Ensure you have all insurance and PAT testing documents from each supplier to give to the venue in your final details meeting.

Image reference: WVSA Suppliers Funky Florist For Goodness Cake, Elegant Seats
Legal Bits
If you haven't already you need to contact your local registrar to give notice. You will be able to find the details for this on your local council website. The latest you can do this is 28 days before the wedding date but ensure you have it booked in before this time! You will receive the legal documents you need to bring on your wedding date in this meeting so do keep those safe!
Bridal Bits
My FAVOURITE part of planning. If you have a bride (or two!) in your couple at this point you want to be having your hair and make-up trials so book these a few months before at least. Go with photos of your venue and dress, and any inspiration looks. If you don't like any ideas at this point that is fine as we have a few months left to tweak! Book in another time to try some other looks until you are feeling absolutely stunning.
Your first dress fitting will take place about 6 weeks out from your wedding. This may seem a bit close but gives you plenty of time to make adjustments without your body changing too much.
Get your accessories all bought and start breaking in those wedding shoes!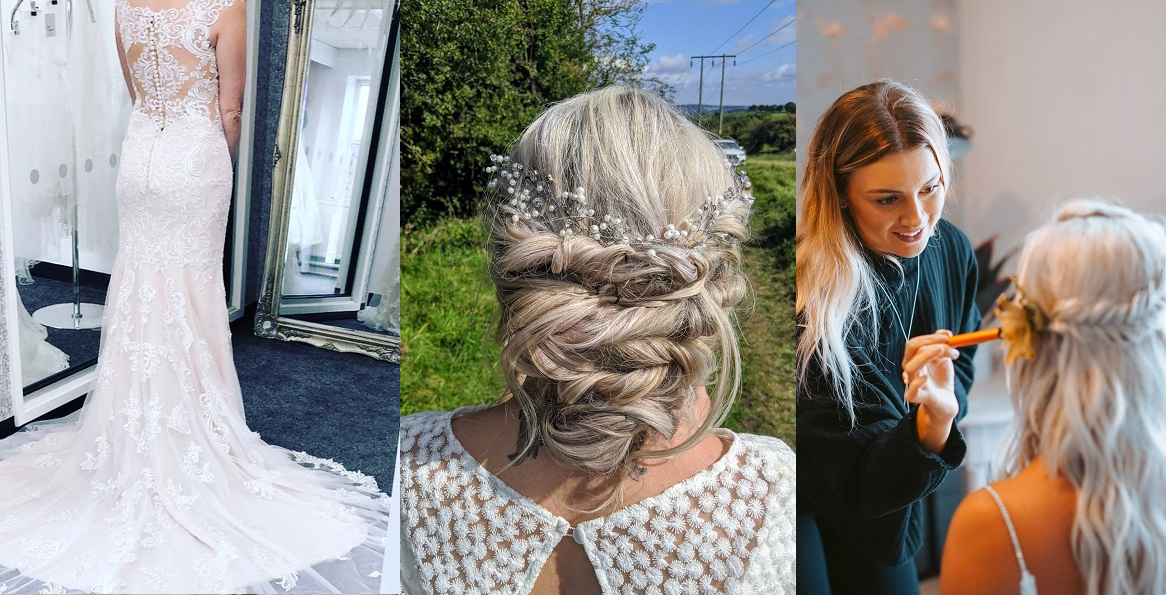 Image reference: WVSA Suppliers Team Bride Derbyshire, The Bridal Stylists, Make Up By Sophie Downing 
Groom-ey Bits
Of course we don't want to forget about grooms! You want to ensure you have all your accessories coordinated, shoes, ties, pocket squares, tie clips, even socks! Are all the people wearing suits going to match or is the groom/grooms going to stand out in something different? Get those suit fittings booked in for as close to the wedding date as you can, probably a month or two out.
 Music
I think music has a huge place in wedding days, and it's not just down to the DJ or band in the evening.
There's a few different special songs you need to think of in total about 6, in order they are:
* Songs for when guests are entering the ceremony room (if you want)
* Song to walk down the aisle to (eek!)
* A couple of songs when you are signing the registry
* Recessional song, when you leave the room (I recommend something upbeat!)
* Father and Daughter/ Mother and Son dance
* First dance song
Sit down as a couple one evening, with a couple glasses of wine, and make a date night out of it! Listen to songs together, have a little dance, and see what you like.
When you get your RSVP's from guests you can ask them to request a song as well, so collate these and delete any that you aren't so keen on!
If you are having a live musician throughout the day have a look through their repertoire, note down any songs you definitely do or don't want them to play. If you have any special requests let them know as soon as possible so they can learn them if necessary!
Image reference: WVSA Suppliers Steve The Mobile DJ, Inner Vibe Band, Waking Vegas
Invitations
The general advice is to send Invitations out between 9 to 3 months before the wedding date. I like to go middle ground and say 6 months. This means if you have any guests which take a long time to reply (you will) it gives them time to reply and you time to put them all together, finalise your table plan, and dietary requirements etc. It also gives you an actual number of attendees to take with you to your final meetings with your suppliers and venue.
I always recommend putting a rough table plan together as early as possible in your planning process, so when you get your RSVP's you just need to make small adjustments as necessary. And don't need to start from scratch!

Image reference: WVSA Supplier Tilly Fudge
Honeymoon/ Minimoon
If you are going on your honeymoon straight after the wedding make sure you have your passports up to date and your flights are booked in your correct name, especially if you plan on taking your other halves surname!
If you haven't already, have a date night where you work out your honeymoon/ minimoon itinerary.
Food
Ok maybe this is my favourite part of wedding planning! 
You should have already had your menu tasting by this point but if not you will want to book this in! Each venue do these slightly differently so if you aren't sure how your venue does these then contact them asap to find out!
Once you have had your tasting you can make final decisions on the menu, veggie options etc. And then once you have your dietary requirements from your guests you can run through all of this in your final details meeting with the venue.

Image reference: WVSA Venue Whirlowbrook Hall, WVSA Supplier Sweet A Fayre, WVSA Venue Shottle Hall
Final Details Meeting at the venue
You need to book in your final details meeting with your venue. This is your last meeting with them before the big day! Ideally you have your supplier timings, but as a minimum you need all their contact and insurance details. You will need your final guest list and seating plan along with any dietary requirements, and kids for the food. You will run through the timing of the entire day to make sure you are happy and the day will run as smoothly as possible. If you are having a planner on the day to help make the day seamless for you, make sure they attend this meeting too!

Image reference: WVSA Venues Ringwood Hall, Mosborough Hall & Kenwood Hall
Other final details
Now is the time to get those smaller bits sorted if you haven't already. These are things like:
* Get your gifts bought for the bridal party.
* Make sure the accessories are sorted for the groomsmen and bridesmaids.
* Get your favours made up.
* Make sure your wedding bands have been bought or ordered in.
* Come up with a plan for the day before logistics
* Get bedrooms booked in
Enjoy yourself
Finally, make sure you are ENJOYING yourself. Wedding planning can be stressful, especially at the moment. So if you have fallen out of love with wedding planning, focus on the smaller details to get your momentum back. Have the date nights with your other half to make decisions together. Play your wedding songs and have a dance to them.
Block anyone who is bringing your vibe down and talk to those who are actually supportive.
The run up to your wedding is a unique experience in itself and you should revel and enjoy every last second of it.
If you have any queries about any of the above, or just want a rant about that unsupportive bridesmaid, you know where your Bespoke Wedding Planner is. Happy Planning!
Laura x