THE UPPER HOUSE BESPOKE COMPETITION WINNERS
TIM FEARNETT &
ZOE DUDEK
29TH OCTOBER 2020
CONGRATULATIONS
Tim & Zoe have been selected as The Upper House Bespoke Competition Winners! They have won the Wedding of their dreams, the prize includes Venue Hire, and a Food & Drinks Package!
After being selected to win the Venue Hire at The Upper House as part of Round One of the Bespoke Competition Tim & Zoe were required to write about how they met or their proposal for the chance to win further prizes!
Here is their story which the judges loved so chose them as Round Two winners, their prize includes a Food & Drink package!
Tim and Zoë
It all started on a night out on April 5th, 2015. Many believe Zoë pinched Tim's bum that night, she swears it wasn't her. A date the very next night sparked the beginning of their journey.
Next few years; love, support and laughter paved the way for memories, adventures and achievements
Dafuskie Island, South Carolina, August 5th 2018. The most perfect proposal (complete with dolphins!)
Zoë and Tim are excited to announce
Our Wedding at the Upper House
Enjoy taking a look through our website, and we can't wait to celebrate our big day with you!
Upon finding out they had won Round Two as well as Round One, they said:
Tim and I were overwhelmed when we found out we had won round two of the Bespoke competition. So far Charlotte and the team at the Upper House have been fantastic and we can't wait to plan the rest of our wedding with their support.
WVSA ACCREDITED SUPPLIERS
Special thanks to the following WVSA Accredited Suppliers for providing prizes.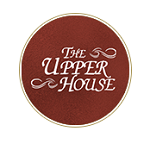 ABOUT THE UPPER HOUSE
The Upper House Hotel is steeped in local history, built in 1845 for Josiah Wedgwood's grandson, Francis the hotel has been lovingly converted into a luxury character property.
The hotel has 24 individually decorated en-suite bedrooms and is set in 10 acres of woodlands and beautifully landscaped gardens. The Upper House provides a restful haven for individual guests, a stylish backdrop for weddings and receptions and an impressive, peaceful environment for company meetings or family and friendly get-togethers.
REGISTER FOR OUR LATEST
BESPOKE COMPETITIONS TODAY!