Wedding Cakes and Sweet Treats
Everybody loves a bit of Wedding cake!!!!
I thought I would look at why the wedding cake is such an important part of your wedding day.
The multi-tiered wedding cake has come a long way since the reign of King Charles II, when a French chef created the complete tiered cake that we know today, and it has now become a centrepiece of wedding celebrations.
The symbolic stacking of bread, cakes and pies hung around for centuries, with baked goods historically being broken over the bride's head to ensure prosperity, fertility and a blessed marriage.
Reference: WVSA Supplier Leanne's Cake House
The Classic Wedding Cake
You have so many choices with the classic wedding cake from 2, 3 or more tier wedding cakes with multiple flavours to choose from for the centre and you can mix it to give your Guest a selection of delicious taste such as chocolate and vanilla, Red Velvet and Lemon drizzle. The outside decoration of your wedding cake can then be in keeping with you colour scheme on your wedding day or you could have the simple but stunning naked cake with strawberries and black berries for a lovely alternative.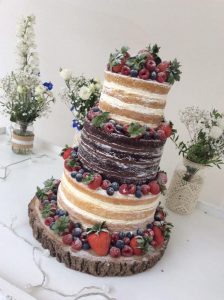 Reference: WVSA Supplier Deborah's Cakes & Sugarcraft
Cupcakes
The cupcake tower became popular in the early 2000's, making a popular alternative to the traditional wedding cake, and it's easy to see why. They look stunning when displayed and having a variety of flavours and designs makes it a really attractive option, it also allows your guests to help themselves.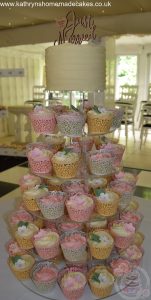 Reference: WVSA Supplier Kathryn's Homemade Cake
'Cheese' cake
For something totally different why not go for a "cheese cake" stacked wheels of cheese have been a popular alternative to the wedding cake. Again with a choice of different cheese to offer your Guest you can not go wrong, Served with a selection of crackers, fruit and chutneys, amazing!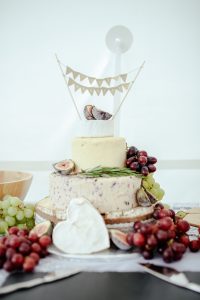 Doughnut Wall
Thinking of something a little different then Doughnut walls are great addition to offer as a sweet alternative giving your Guests a selection of delicious doughnut flavours and make a eye catching display on either a doughnut wall or a cart.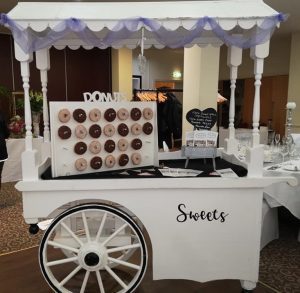 Reference: WVSA Supplier House of Carts
The best bit of all you can have cake tasting option from most Wedding Cake suppliers so go and treat yourself. Our WVSA Suppliers can cover all options of Wedding Cakes and sweet treats from candy floss to nutella filled crepes! Speak to one of our Wedding Planners for prices and packages!
Keep calm and eat cake!!!