By Keely Tredgold.

Wedding Colour Trends and Themes
Colours and themes for Weddings can be the easiest or hardest part of your Wedding planning.
Easy when you have been planning your wedding since you were 3 years old! Have always had an image of your Wedding Day in your head and have thought of every last detail, right down to the colour of your toe nails, which no one will even notice! Or a complete nightmare not knowing what colours to go for, if you should have a "theme" and just generally having a road to go down when it comes to Wedding Décor.
I will start with my own Wedding!
For me it was a nightmare! I really struggled to pick a direction to go in with my décor. Having worked in the wedding and design industry for some time, I had seen my fair share of Weddings and the amazing, wonderful and original colours and themes that I could take inspiration from. The problem…I LOVED THEM ALL!!!
I didn't know where to start, I loved a Rustic wedding with blush pinks, sage greens, natural materials, wooden elements and bunting with fairy lights. However, I also love the elegant clean look of whites and floaty drapes, tall glass vases with beautiful white flowers, layers of fabrics and textures.
I love Christmas, so maybe a Christmas theme, I loved autumn and the beautiful oranges and reds with hints of golds, we toyed with the idea of having a fate themed Wedding with ditsy floral prints, bunting, picnic blankets, ice cream and chip vans… You catch my drift and I haven't even touched on colours.
There is soo much choice with Weddings today and soo many ideas thrown at you and you can just feel overwhelmed and you don't even know where to start. So some advice from me to you…
Start with one aspect of your Wedding to give you inspiration.
Flowers are normally a nice place to start. Certain types of flowers are only available at particular times of the year, so if there is a particular flower you like, your florist can recommend some flowers that will be available that can go with them. They will probably even suggest complimentary colours too. Sometimes just finding one aspect of your wedding that you have fallen in love with will then allow the rest of your planning to flow with that one item at the heart and everything complimenting it.
A lot of couples think you have to have decided your colours and themes before you pick flowers, but I think if you are stuck it can work well for that to be your starting point and see colours and textures in the flesh.
Check out these beautiful flowers for inspiration.

Image reference: WVSA Supplier Greenfingers Florist 
It's not just flowers you can start with. Look at cakes too. You might come across a cake you fall in love with and then you can tie in the rest of your décor, flowers, colours, textures, even bridesmaid dresses to. Sometimes it just takes that one thing to become the inspiration. Don't put pressure on yourself thinking you have to have everything planned out and matching straight away. You may find things evolve too.
Have a look at these stunning cakes. Maybe one of these could be your inspiration?

Image reference: WVSA Suppliers Love Life Eat Cake
And sometimes it starts with 'The Dress', the dress you didn't have in your head when you walked in to the shop but can't get out of your head once you had left.
The dress you have chosen may be in a style you weren't expecting or have a detail you wouldn't have thought of. Maybe the material is lace when you wanted satin. Now you have your dress you are thinking of the bridesmaids dresses that would complement it, you can then think of colours and from there your ideas can fan out.
Complementary colour chart
If you are lucky enough to know what colours/themes you want but are having trouble with getting things to match, try not to worry and over think it. As I found out, the things you worry and stress about don't even get noticed on the day and it's the last thing on your mind too! But don't worry if colours don't match exactly, as long as they blend together and are apart of the same hue and just different shades, it will work. In fact, having items of the same colour, but in different shades can add texture and interest to your day.
If you have a colour in mind but are thinking on having accent colours try looking at a complementary colour chart. Look at your colour and on the opposite side of the spectrum will be complimentary colours, normally in different shades. It can be a really helpful tool. Take a look at this one to help.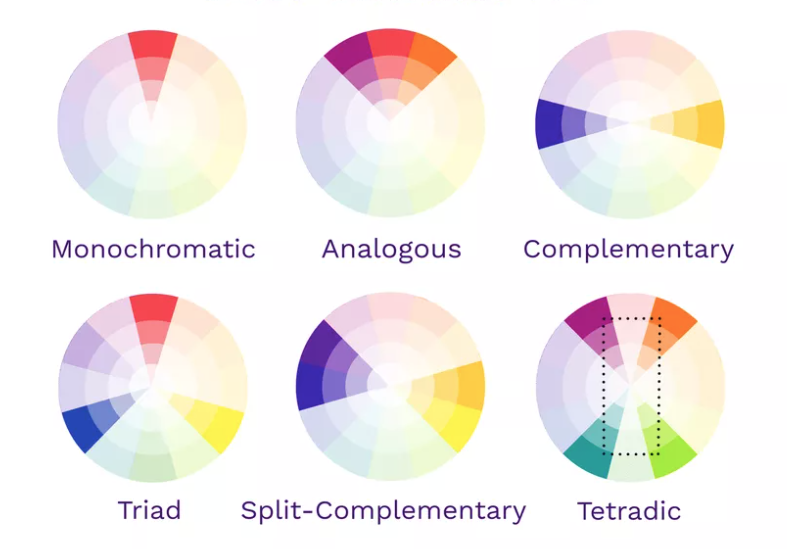 Thinking of having metallics, hints of golds, silvers, coppers? Generally speaking, cool light colours like light blues, lilacs, greys, whites etc. are often complemented by silver. Warmer colours like pinks, reds, oranges, and even greens go lovely with gold and blushes, warm greys and navy's go beautifully with coppers and rose golds.
So to round up:-
Listen to your suppliers, they have a wealth of knowledge and experience and will help you as much as they can.
Try and look for something to inspire you, sometimes it takes just one thing.
Go to as many wedding fairs as you can, many venues will be dressed and some have each table dressed in a different style or colourway, seeing things in the flesh can work so much better than seeing hundreds of photos online.
Don't worry if things aren't coming together straight away. It will in the end, sometimes it takes time and all of a sudden it will take shape.
Try and get colour swatches and samples where you can, it can make life much easier, especially if you have an uncommon colour. You then have something you can send to different suppliers so they know the exact colour you want. If they don't have it they maybe have the same colour in a different shade which will still work beautifully.
Most of all, ENJOY this process! Get excited about the colours and the textures, it can be so much fun!
Lots of Love
Keely x