Wedding flowers… where to start!
F is for fuchsia in bud so petite
L is for Lilies tall, strong essence sweet
O is the orchid tall and pale in colour
W is wax flower delicate like no other
E is for Edgier with the yellow centre
R is roses for romance that lasts forever
S is for the sunflower that blooms in the sun…
which of these Wedding flowers are your special one???
How it all started……
In addition to my Bespoke Wedding Planner role, I am a self-employed florist who is very passionate and creative with my designs. I have been a florist for six years now and my business is called Shamrocks and Forget-Me -Nots after my late father. My dad was Irish and I wanted to name it after him and in his memory. I have helped numerous couples to plan their individual flower designs for their dream wedding. I offer a personal consultation to discuss bespoke arrangements. It is so important to emphasize that everyone's colour and Wedding flower choices vary from style, texture, and shape. When planning your flowers, you need to consider which are in season and appropriate to your budget, but most importantly what will suit the venue and backdrop. Some couples prefer the rustic, natural beauty or wood slices and jars with a country theme. Others plan for glassware with height and glamour. Nowadays there are various styles that couples can customize and create their beautiful ideas that I can design to become a visual bespoke reality.

Things to think about before your Wedding flower consultation…
What is your colour theme?
What flowers do you like/dislike?
What quantity do you require? – Bridal package, centre pieces, ceremony flowers?
What budget do you have?
Try to take photos with you of what colour and style you are looking for.
Consider the flowers that are in season for your big day.  (The table below may help you with this)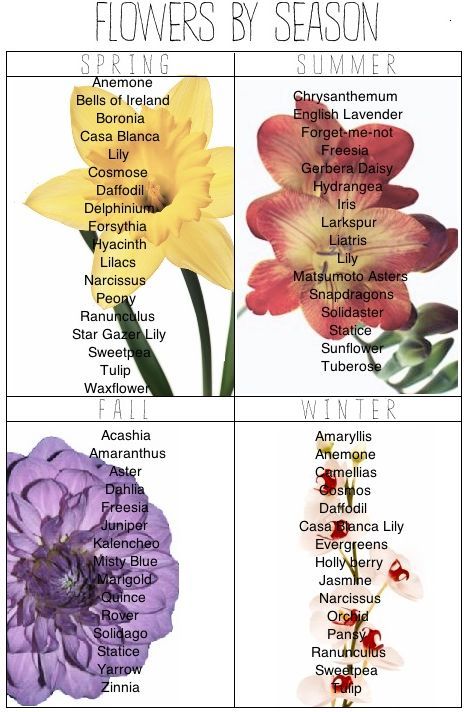 Colours, style and shape
When choosing the colour of your wedding flowers, it is wise to have a colour swatch of material, ribbon or sash, some bridal shops will supply you with these to match the bridesmaid's dresses. In the world of flowers colours are so extensive that what we say and see can be very different. As for styles of flowers, this is purely up to the bride and groom's preferences. I offer help and advice with their bespoke arrangements, taking into consideration their comments we have discussed. Brides may like a small, subtle hand tie with pastel colours as a sphere shape. Others may like a more traditional teardrop bouquet to add length and a trailing effect. This can depend on the height or figure of the bride. Some couples want all flowers with little foliage, others may want a natural hand tie with the rustic element attached. The main aim is to create a bespoke theme that suits your styling and design
Things to consider for your budget…
I like to assist couples in making the most of their flowers, for example if you want to have large pedestals for a church / ceremony room, these can then be used to decorate the venue. If you want pew ends for chairs, these can be then be used to decorate the cake or gift table. Or if you want a signing low length decoration, then this can be used for your top table.
Alongside this I always suggest jars or vases on the top table, for the brides hand-tie and bridesmaids. This then showcases your colour and flowers and also helps to keep them replenished and cared for.
It is important to focus your budget on the brides hand-tie and maybe consider a more reasonable option for the bridesmaids. This may be a gypsophila hand-tie that is robust and delicate but half the price. Corsage bracelets are also another option for bridesmaids.
If you are having centre pieces I recommend using these as gifts for all close family/friends that have assisted with your day. There are lots of ways to utilise your flowers to give the impact needed in all areas of your day. Whether you have a small or large budget flowers will always look beautiful and compliment your dream wedding in so many ways.
I am a WVSA accredited Supplier so any of our couples who have booked through the Bespoke Weddings Competition and are interested in my services then get in touch, I will count as one of your four suppliers to be entered into the Supplier Round of the Competition to Win your Supplier Package!
For your chance to Win your Wedding at any of our stunning WVSA Accredited Venues, enter our Competition on http://bespoke-weddings.com/wedding-competitions/