By Maria Napper

Wedding flower highlights in 2019

What a year for wedding flowers to bloom in such beauty, texture and fragrance. The trends for 2019 have been:
Nude and pastel wedding flowers.
Pretty Peonies. These have yet again been a favourite in the flower world!
Dramatic Floral Instalments. Floral instalments have always been popular, but the unforgettable floral arch at the wedding of Prince Harry and Meghan Markle is sure to inspire couples getting married 
Some favourites from this year's designs
Hydrangea
A strong, robust large headed bloom that remains elegant and beautiful with a huge accent. Colours that have proved to be popular are pale blue and lilac for summer weddings used for bridal hand ties, centre pieces and top table garland.
In the Autumn months the richer green and deep burgundy compliment the season with a warm glow. They add a touch of vintage glamour and country chic with their fluffy pom pom texture. Their shape resembles a beating heart, so they symbolize perseverance and emotion.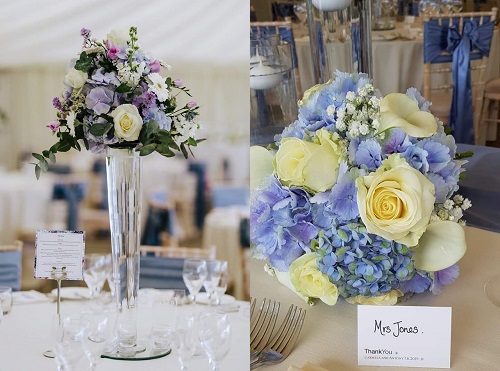 Peonies
Such stunning beauty and scent from these soft, angelic looking flowers. Couples love the whites and pale pinks that offer a soft appearance. They are known for representing values such as:
Beauty in all forms
People who bring honour to their entire family
Wealth and happiness
Romance and love
The season for peonies is usually late April through to early July. This depends on how soon spring starts and the heat of summer increases. They are at their peak and consistently available mid-May to the end of June. A lot of brides say that peonies are a must -have at their wedding, however if these are not available then an alternative is David Austin Patience or white O'Hara rose. For a romantic a lush cream white 'Duchess to Nemour' or 'Shirley Temple' Brides hand ties look amazing on their own, or with the addition of astilibe or stocks.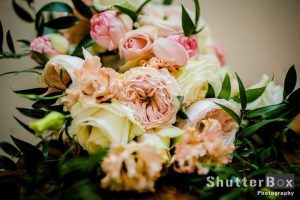 WVSA Supplier Shutterbox Photography
Roses
They offer such fragrance romance and beauty. Always a popular request by the bride and groom, and so many varieties and sizes to chose from. The most expensive yet most beautiful are David Austin's wedding roses. Such a breath-taking collection that guests will praise and enjoy throughout any wedding day.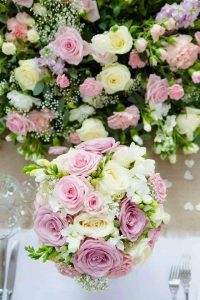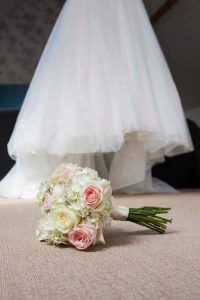 Roses are red, Violets are blue here's some 2020 trends that may be suited to you:
Trailing flowers and greenery from ceiling to floor designs. This creates a garden atmosphere and enables the venue to become alive.
Large garlands and blooms along top tables and fireplaces, trailing over the ends to fill the large spaces.
Smaller white hand tie, pretty, scented bouquets that are not taking over the feature and design of the bride's dress.
Shimmering lights amongst the flowers and table to create an economical. Romantic aesthetic.
From 2017 flower walls have been very popular, however for 2020 it seems that greenery walls will be the new trend. These will be filled with herbs, fruits and ferns.
Deeper, rich colours and berries are being added to white room decorations. This will create depth and colour to the mood of the venue.
Gift wrapping flowers at the end of the night for guests to have as a sentiment of the flowers that added the magic to your big day.
Brides will be looking to add fresh, delicate flowers to the hair and neckline.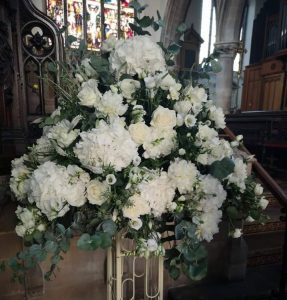 Wishing all our 2020 couples getting married some inspirational thoughts for the trends and floral designs of the future. Fresh flowers add so much beauty to your wedding day, remember to allow them to reflect your personality and styling. 
All of the flowers in the photographs within this blog have been created by our WVSA Supplier Shamrocks And Forget Me Nots  so speak to your Wedding Planner if you would like a quote, which will also count towards one of your 4 WVSA suppliers for Round Three!
Maria x