Wedding Saving Tips
If you are reading this then you are more than likely planning your big day! Firstly, congratulations on the engagement! You may have already booked your Wedding Venue and are now considering supplier options, or at the beginning of the often described 'stressful and expensive' Wedding planning journey! Hopefully my hints and tips will give you a few ideas on how to make some savvy Wedding savings, without effecting the quality of your big day!
Wedding Date 
Rewind back 20 years and almost all weddings were held on a Saturday, nowadays Weddings take place on any day of the week! If you change from a Saturday to Sunday – Thursday, not only can you save £1000's (yes, THOUSANDS!) on the price of your venue, but suppliers give big savings on a week day too! Not everyone works the usual Mon-Friday 9-5 anymore, if you are giving your guests 1 or 2 years notice then I am sure they can book a day off work if needed! Alternatively if your heart is set on a Saturday, then look at off-peak months such as November-March, again you can get big savings by doing this! As we all know, you can't guarantee the weather in any month in this country!
Wedding Websites 
Wedding stationery isn't always needed when Wedding planning, a cheaper and increasingly popular alternative is a Wedding Website! All of the Wedding details can be found on the website… time & location of the Wedding (including a map!), local accommodation, photo gallery and more! There are even RSVP functions making life easier for your guests when it comes to letting you know whether they can make the big day! Very helpful as sometimes this can become quite a mission to get a reply from 50+ guests, where as if they can just RSVP with a click of the button then this is so much quicker and easier. If you book your Wedding through Bespoke Weddings then you will receive a Wedding Website as part of the Platinum Wedding Service!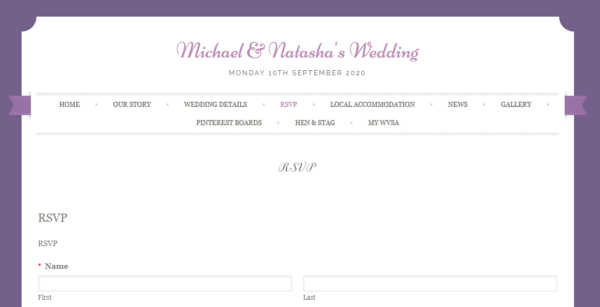 Ceremony Time 
If you are having a Civil Ceremony at your venue, then an ideal time for your ceremony is around 1:30/2pm, this means your guests will eat before arriving and canapes aren't needed if you don't want them! Usually your Wedding Breakfast is served around 4pm. For an earlier Wedding Ceremony such as midday, your guests haven't had time for lunch, therefore they will be hungry so canapes are a must. At roughly £6 a head for 80 guests, that is an extra £400 on your bill!
DIY Decorations 
Hobby Craft and other craft shops are a god send when making your own decorations! Making name places or centre pieces could be an activity on the hen do, it isn't all down to you so get bridesmaids and crafty friends/family involved too! Here are a couple of photos which include a simple decoration from Hobby Craft instead of chair covers/sashes, the bunting across the ceiling on the 2nd photo was made by the bride who had a sewing machine gift at Christmas! How amazing do they both look at the fantastic Cressbrook Hall!
Wedding Cake 
This is a difficult one, as cutting corners on your cake could result in a collapsed cake which tastes awful! Our Cake Guru Sarah Reilly (Julia Florence Cake Design) has a couple of cake ideas which are cheaper without substituting the look or taste…
Top money saving tips from me are maybe choose a semi naked style cake which look amazing and taste amazing.  You can keep costs down as these are not ganached or covered in sugarpaste saving money on ingredients and time.  Semi naked cakes can be done in different colours to match your theme, dressed with fresh flowers to keep costs down and I often mix them with one iced tier to create the wow factor but keep costs down.
 Cupcakes are also a god choice as again you can decide just how much decoration you'd like on these which gives you lots of options to suit your budget.  Cake toppers can be a great way to enhance the look of your cake and can also give the overall look of the cake more height.  These can be brought from as little as £4.00 and can be personalised to incorporate your names or special interests, and also come in a range of finishes from wood to acrylic glitter.
 The most important advice I can give is find a cake maker who is passionate about cake and being involved in your special day.  For me it's a total privilege to be chosen to be involved in a couple's special day.  I always advise my couples to go with the style and flavours which they love, not to suit everyone else, it's your dream day and you must have your dream cake xxx'
Check out these yummy cakes all made by Julia Florence Cake Design…
Win A Wedding Competition!
Finally the best wedding savings tip of all; Enter our Bespoke Weddings Competitions!
Our Win a Wedding Competitions can save you THOUSANDS! So don't waste time and enter now on http://bespoke-weddings.com/wedding-competition/
The Bespoke Competitions are run in three rounds as follows;
ROUND 1
TEN lucky couples per Wedding Venue will WIN;
FREE Venue Hire on selected dates in 2019 & 2020!
At some Venues the Round One Prize also includes other benefits such as Complimentary Bedrooms, and Discounted Food & Drink! In addition to that, all of our Competition Packages include the Platinum Wedding Service, which can save you even more money! It includes a Wedding Website, (so you can save money on stationary and invitation inserts)! Wedding Insurance, Bespoke Wedding Planner (to pick up tips on DIY Decorations!) and Potential Wedding Supplier savings over £2,000 (with our accredited WVSA Suppliers who are also recommended by the venues too)!!
ROUND 2
ONE lucky couple per Wedding Venue will WIN;
A Food & Drinks Package for up to 50 guests!
That's a 1 in 10 chance of winning!
ROUND 3
ONE lucky couple across four venues will WIN;
A WVSA Accredited Supplier Package & Honeymoon!
That's a 1 in 40 chance of winning!
Good luck and happy planning!
Louise x