By Emily Hankey.

Help! I need to book a Wedding Photographer!
Your Wedding Photographer plays a huge part on your big day! These are the photos you will always look back on to relive every moment, from the second you start to get ready in the morning, to the dance moves you never knew you could do. But how do you know what photographer is right for you?
There are so many different styles of wedding photographers out there which can make choosing only 1 rather difficult.
Well ladies and gents this is where those late nights of board making on Pinterest, hundreds of screenshots and liked photos on Instagram come in handy. You've been saving what you want from your photographer all along.

Image reference: WVSA Suppliers Kim Shaw, Kimberley Hill & Nicola Gough
Do I need photos whilst getting ready?
A lot of brides are unsure as to whether having a photographer take photos whilst everyone is getting ready is necessary or really what they want. You will find most of our WVSA accredited suppliers offer full day coverage within their packages which includes the bridal prep.
Still unsure… Well you'd be surprised how may special moments you can capture during this time. Not only does the photographer capture your excitement but your family and bridesmaids too, and possibly some nerves as well. But your day doesn't start when you begin to walk down the aisle, so why not capture all of it. You can look back on these remembering exactly what you were thinking and feeling before seeing the person you are going to spend the rest of your life with.

Image reference: WVSA Suppliers Field Photographic, Chris Bunce & Martin Cheung
How do I know what photographer is going to be best suited to my style of wedding day?
It is true that a lot of photographers keep it traditional, and this may not be something you're going for which is no problem at all, our WVSA photographers offer a huge range of styles. When looking through a photographers portfolio don't focus on finding an overall wedding day like your own; look for the individual photos you like the styles of and go from there.
You can discuss what style you are going for when you meet with your photographer, and you can even pull them to one side on your big day to ask for specific shots. Remember they are there for you and your big day!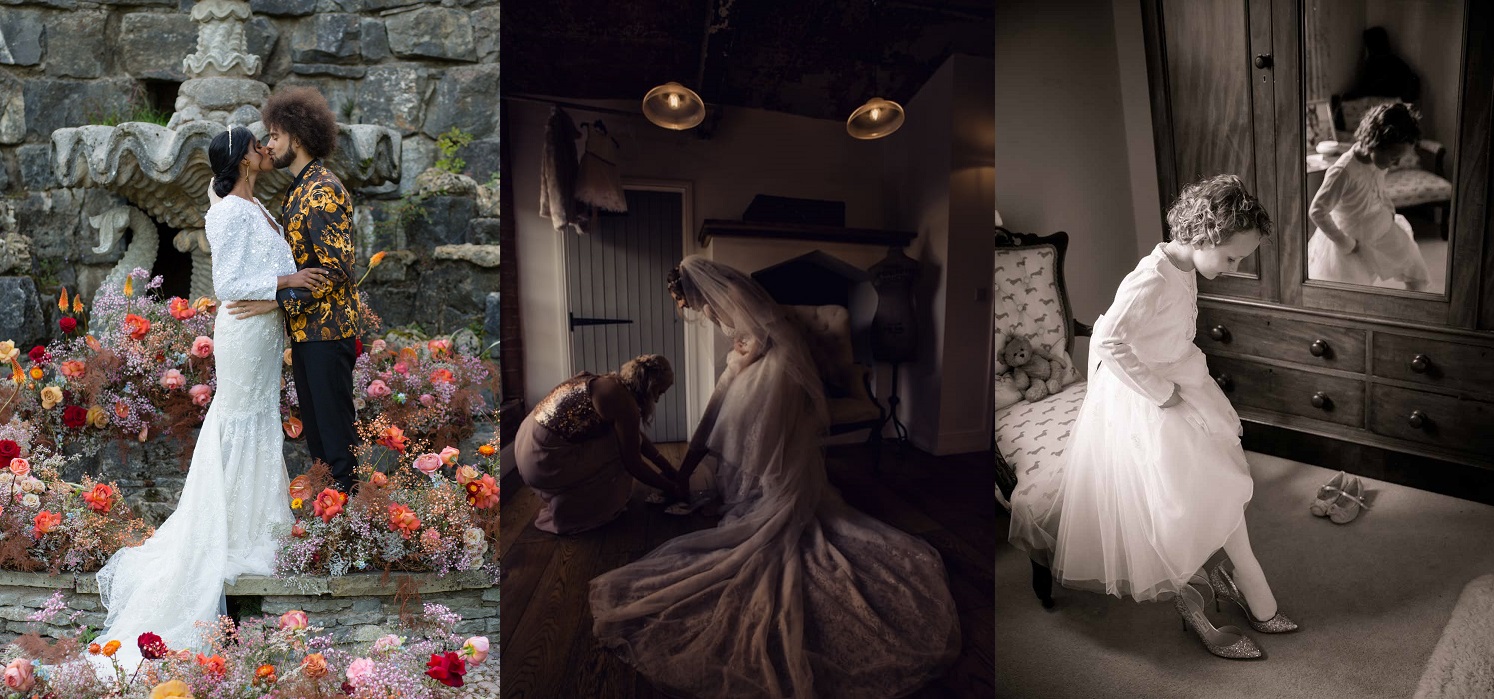 Image reference: WVSA Suppliers Nicola Gough, Elen Studio & Kim Shaw
The same concept goes for how the end product will look – after the shots have been edited. If you prefer a particular set of photos a photographer has on their portfolio, you can simply communicate this to them. And you never know, the more ideas you put forward to your photographer the more they can give back; ideas they may not even have on their portfolio yet.
We're having an outdoor wedding and worried we can't have the photos we want if it rains.
Worried about rain!? Some of the most magical images can be created when it is raining on your wedding day, especially at night. Go and read another one of our blog posts that will give you a completely different perspective on the possibility of rain –  https://bespoke-weddings.com/rain-on-your-wedding-day/ Our accredited photographers all have their own style for rainy day photos, all of which look incredible in the end, trust your photographer and enjoy the process! Remember rain is actually good luck on your Wedding Day!
Image reference: WVSA Suppliers Kimberley Hill, Martin Cheung & Kim Shaw
We recommend booking your wedding photographer as soon as possible as they can fill up rather quickly. But don't panic! Even if you're unsure on what style you want, you have a professional on hand who knows all about the business. Communicate with your photographer, share ideas and enjoy being the star of your own show. 
To view all of our WVSA Suppliers follow the link below and speak to your Wedding Planner about the discounted prices and packages which they can offer –  https://www.wvsa.org.uk/wvsa-accredited-wedding-suppliers/
Mostly importantly, don't forget to smile! 
Emily x