By Jade Cummings.

What music do

I

 have at my wedding?
The answer is whatever you want… it's your wedding, it's your choice.
Before The Ceremony
Your wedding guests tend to arrive up to 30-45 minutes before the start of the ceremony. With your guests arriving, being welcomed, and having arrival drinks sometimes the atmosphere can be pretty noiseless (until the majority of guests have arrived), a live acoustic or singer is a lovely way of enhancing your pre ceremony atmosphere – soft/subtle background music can make all the difference!
What Musicians Can I book For My Wedding Ceremony?
Pianists
Organists
String Quartets
Harpist
Acoustic Duos and Soloists
Hiring live music for your wedding ceremony can really enhance the occasion and make it so much more memorable for you and your guests.
Whichever type of ceremony you choose whether it be religious or civil, always check with the vicar or registrar to see if they have any restrictions on music choice/what you can have.

Image reference – WVSA Suppliers – Pic 1 Romantic Piano Pic 2 Nero String Quartet Pic 3 Liath Hollins Harpist
Ceremony Music
Processional
The processional is a very special moment.
Whether you've chosen to walk down the aisle by yourself, as a couple or are being given away, it's a highly anticipated walk that can bring a lot of happy tears.
The nerves may have kicked in by now so the music you choose for this moment should help relax you so you can embrace and enjoy the moment – it should connect you and your partner and be special and significant to you both.
Considering the size of your chosen venue and the length of the aisle is key so that you can choose the right pace of the music to avoid walking too fast or too slow – remember its highly anticipated and of course, you want it to be perfect!
Signing Of The Register
This is legal part of the ceremony where the couple are taken aside to sign the formal documentation that becomes the marriage certificate.
The signing of the register can take 5 to 10 minutes, so it's always nice to have a few pieces of music in reserve, whether that be acoustics, live singers or even and a short playlist of selected songs, (optional of course).
Recessional (your first walk as a married couple)
CONGRATULATIONS – you're officially now a married couple!
Everyone cheers, claps, and welcomes you back down the aisle – It's a truly elating moment for all, so choose music that reflects that.
Wedding Breakfast
After spending so much time picking out the perfect wedding menu, deciding on centrepieces, arranging favours for tables, and seating plans, you simply can't forget to create a wedding breakfast playlist.
Whatever you choose, keep it slow and low to enhance the atmosphere – turn the volume down to a level where guests can easily communicate and hear one another.
You can always opt to carry through the acoustics/live singing from your ceremony to capture a more personal and angelic feel.
Evening Reception
It's time to get the party started!!
Hands in the air, air guitars ahoy, the evening reception is the time to let loose and prepare for tomorrow's post-drunken pity.
A DJ is always a top choice, collating all your favourite party songs and remix's, flashing lights and dance floor galore – the evening reception is where you can really let your imagination run wild in terms of music choice – whether that be; Pop, Rock, Country or the 80's, 90's and 00's classics.
There's nothing more exciting than having a full dancefloor with everyone up on their feet busting some moves. Having a DJ service that allows you to pick your choice of songs, you can be sure to get the energy of your wedding reception just right – you can create the perfect balance that will keep everyone happy and on their feet all night long.
Whitney Houston – I Wanna Dance With Somebody
ABBA – Dancing Queen
DJ Casper – Cha Cha Slide
Candi Staton – Young Hearts Run Free
Los Del Rio – Macarena

Image reference – WVSA Suppliers –  Pic 1 Derbyshire Wedding Events Pic 2 Sunset Entertainment Pic 3 JWL Sound & Light
Song Requests
Not everyone enjoys the same genres of music, meaning everyone may not enjoy your playlist choices – a way to overcome this is by giving your guests the option to 'request a song' it's the perfect way to ensure ALL your guests are enjoying themselves.
Live Bands
Having live music bands at your wedding can really uplift your evening entertainment – nothing beats the buzz of a live band, the impact of a live performance featuring scorching electric guitar solos, powerful vocals, pounding drum beats and groovy bass creates an electrifying atmosphere that'll get everyone dancing.
There is a multitude of styles, from duos and trios to four-and-five-piece function bands
Each wedding band's music is different, the type of act you choose will depend upon your personal tastes, your budget, and the theme of your wedding.
You can choose from popular musical genres like pop, rock, soul, or country.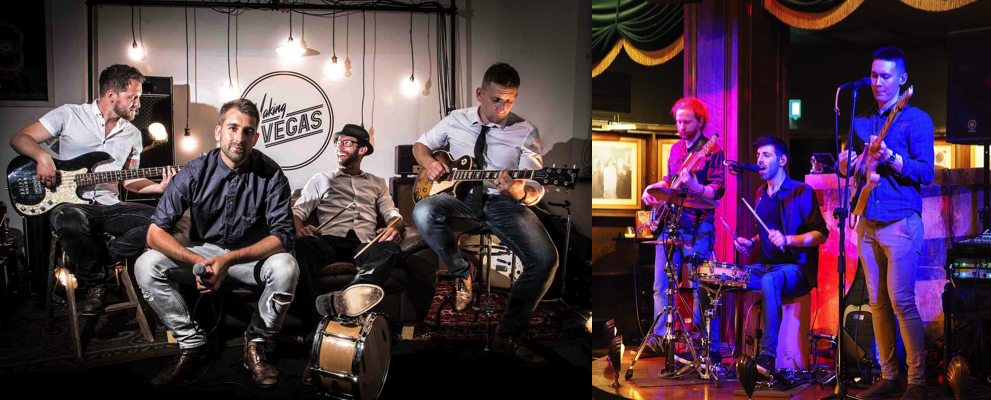 Image reference – WVSA Suppliers Pic 1 Waking Vegas  Pic 2 Inner Vibe
First Dance
The first dance – always a nerve-wracking moment (especially if you have two left feet) … regardless, this moment should feel euphoric, like time is standing still – embrace the moment of being a newly married couple.
Choosing a song can be difficult, there's so many to choose from – I recommend choosing something that has a special meaning, that's romantic or memorable to your as a couple.
Westlife – Hello My Love
Ed Sheeran – Perfect
Lonestar – Amazed
Elvis Presley – Can't Help Falling In Love
Luke Combs – Forever After All
Contact your Bespoke Wedding Planner today for any recommendations/support.
Thanks for reading.
Jade x